On a chilly friday in January, 52°North bundled up to take on a new challenge – Disc Golf.  For 3 hours 52Ners and guests braved the cold and tested their frisbee skills, seeing who could throw a "frisbee" disc into a basket with the least number of throws. Martin Reckmann from DJK Grün-Weiß Marathon in Münster instructed the first time players in the rules and techniques of the game, which is similar to golf. He also prepared a challenging course through bushes, trees, sculptures, over small bodies of water and swampy areas. Marcus Wissing (con terra) needed only 24 throws to complete the 5 target course and win the tournament! Refreshments helped warm chilled fingers and toes.
It's fun to explore new horizons! We look forward to the next frisbee challenge on April 20th.

Martin Reckmann demonstrates throwing techniques.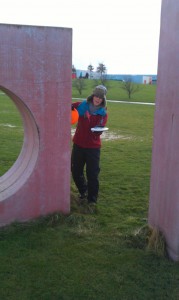 Conny works her way around bothersome obstacles…
hmmm…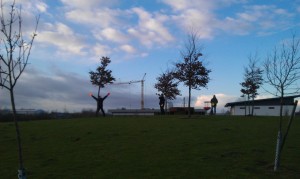 Yeah!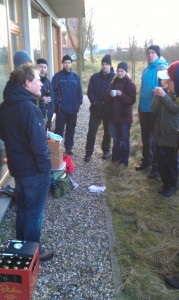 Refreshments after hard work!