Once again, 52˚North had the excellent opportunity to participate in Google's Summer of Code. We had four awesome projects, all of which were quite successful – so a big thanks to all our students and mentors! This was my first year with 52˚North and Google Summer of Code. I am pleased to report that it has been a positive and valuable experience for me and I hope the same can be said for the students and other mentors.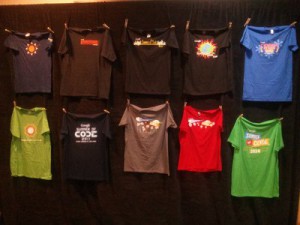 On that note, I'd also like to mention a bit about this year's Google Summer of Code Mentor's Summit, or as it was called this year, the 10 Year GSoC Reunion 2014. In the past, the Mentor Summit has invited two mentors/org admins from each of that year's participating GSoC organizations to participate in a weekend "unconference" at the Google campus. This year, they tried something different. A much larger crowd, including students and 'lottery winners', met in celebration of the 10th year of Google Summer of Code. As a result, the Reunion was located in the San Jose Marriott Hotel and involved lots of fun activities, an unconference, and plenty of networking opportunities. With me being a 'remote mentor', it also gave me a chance to actually meet our org admin Daniel Nüst 'in person' 😉
A particular Reunion highlight for me was having a chance to interact with other projects that are doing similar things to our own EnviroCar project. Daniel organized a great session on 'Data in  (Cars', which was quite well attended (session notes). While I think Daniel probably answered more questions than he got to ask, it was a successful session none-the-less. There was also a 'Geospatial' session, which included folks from all sorts of great open source geospatial projects, including OSM, GRASS, and others (session notes). It was also great to meet several students from these projects.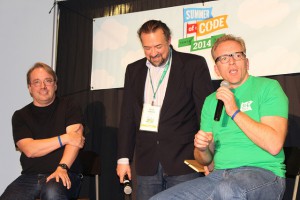 Another particularly exciting aspect of the Reunion was the banquet dinner (held in the San Jose Tech Museum), and our surprise keynote speaker: the 'infamous' Linus Torvalds. Linus and friends provided excellent talks and entertainment while the attendees all enjoyed excellent food and a chance to play around in the Tech Museum most of the night!
All in all the event was a lot of fun and very productive. I sincerely hope 52˚North participates in GSoC again next year… but until then: Happy Coding!