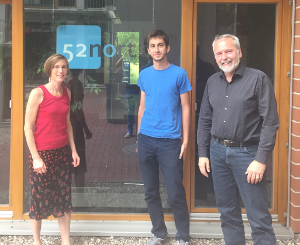 Gerard Casas, winner of the 52°North Innovation Incentive Award 2012, visits 52°North. He currently completes an internship at con terra GmbH.
Starting his third year as a student of Informatics Engineering, Gerard was missing the "geo" in his studies at FIB (Informatics Faculty of Barcelona), UPC- Barcelona Tech. "I'm very interested in geoinformatic technologies. It's a field not being taught in my university, so I thought that doing an internship at con terra would help me learn more about geoinformatics." For the month of August, Gerard works with con terra's FME Team, learning the basics of FME Desktop and FME Server. His work focuses on server side development of demo applications for using sensor data and open data in Spain.
Gerard's interest in geoinformatic technologies is nothing new. Back in 2012, he worked on his Treball de recerca – a research activity required of all students during their Bachelor (the last two years of high school). His project focused on developing a tool for locating social activities by analyzing geolocated twitter feeds. Just a 17 year old high school student, not a university student, he submitted his project proposal to the 52°North Student Innovation Prize 2012. The jurors were so impressed by his age (17), his gTweet idea, the overall ambition of the approach, the likeliness of a useful outcome and the enthusiasm with which it his proposal was written, that they awarded him the 52°North Innovation Incentive Award. "This was a real turning point in my life," states Gerard, "it gave me the motivation to persue my interest in geoinformatics. I finally made it to Münster!"
During his internship at con terra, Gerard will implement the basic idea of his gTweet app with FME Server and map.apps.