Today, a new version of the SOS (Sensor Observation Service) Importer was released. It is a tool for importing observations from CSV (Character Separated Values) files into a SOS instance using an eight step wizard for guiding a user through the often cumbersome process of data transformation.
Version 0.3 offers the following new features:
Support more observation types
FTP Remote File Support
Use SOSWrapper from OXF 2.0-SNAPSHOT
More details can be found on the Wiki page of the SOS importer.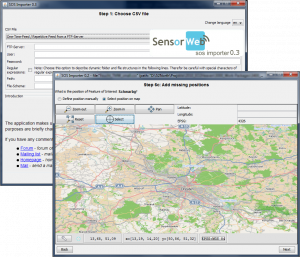 You can download the binaries from our Maven release repository:
Alternatively, you can build the binary files from the source code.
Feel free to share your experience with the Sensor Web community in our forum or mailing list (choose which you want, they are synchronized ;-)).