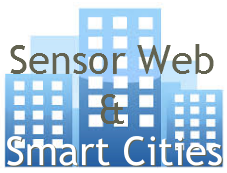 –  Workshop for Building Smart Cities Applications with Sensor Web
Sensor data plays an important role in smart cities applications by adding a real time dimension to the overall city situation. Typical fields of application are air quality, weather, traffic conditions and their resulting influence on city life. Simultaneously, OGC Sensor Web Enablement technology provides fundamental building blocks to flexibly create diverse applications based on sensors and their data.
At this year's FOSSGIS in Berlin, 52°North's Simon Jirka demonstrates how Sensor Web technologies can help build smart cities applications. The workshop "Sensor Web and Smart Cities" is geared towards public authorities, researchers and developers. After a short introduction to the OGC Sensor Web Enablement architecture,  existing open source components (in particular 52°North's Sensor Observation Service, Sensor Event Service und Sensor Web Client) are presented. Practical examples illustrate the variety of opportunities for use.
Hands-on training takes place using the OSGeo Live DVD. Participants use the 52°North Sensor Observation Service implementation to learn how the OGC SOS interface works. They are supervised as they perform basic SOS operations, which will enable them to provide and access sensor data via the sensor web.
The workshop takes place in *German* on Thursday March 20, 2014 from 15:30 – 17:00 in room WS 438 at the FOSSGIS 2014 in Berlin.
Register now!
*******************
Workshop zum Aufbau von Smart Cities Anwendungen mit Sensor Web
Sensordaten spielen im Kontext von Smart Cities-Anwendungen eine besondere Rolle, da sie es erlauben, einen aktuellen Lageüberblick zu erhalten. Typische Anwendungsfelder sind Themen wie Luftqualität, Verkehr, Wetter und damit verbundene Einflüsse auf das Leben in einer Stadt. Gleichzeitig stellt die OGC Sensor Web Enablement-Technologie grundlegende Bausteine bereit, um flexibel unterschiedlichste Anwendungen auf Basis von Sensoren bzw. Sensordaten zu erstellen.
Im Rahmen der FOSSGIS 2014 bietet Dr. Simon Jirka ein Workshop zum Thema Sensor Web & Smart Cities an. Ziel dieses Workshops ist es, Teilnehmern aus der öffentlichen Verwaltung und Forschung sowie Entwicklern aufzuzeigen, wie die Sensor Web-Technologie zum Aufbau von Smart Cities-Anwendungen genutzt werden kann. Hierzu wird eine kurze Einführung in die OGC Sensor Web Enablement-Architektur gegeben. Im Anschluss daran werden bestehende Open Source-Komponenten (insbesondere der 52°North Sensor Observation Service, Sensor Event Service und Sensor Web Client) vorgestellt. Begleitend dazu werden praktische Anwendungsbeispiele zur Illustration der Einsatzmöglichkeiten eingeführt.
Abschließend beinhaltet der Workshop eine praktische Übung auf Basis der OSGeo Live DVD. Die auf dieser DVD enthaltene 52°North Sensor Observation Service-Implementierung wird genutzt, um den Teilnehmern erste Schritte in der Nutzung der OGC SOS-Schnittstelle zu vermitteln. Unter Anleitung können die Teilnehmer grundlegende SOS-Operationen ausführen und werden somit in die Lage versetzt, Daten über das Sensor Web bereitzustellen und abzurufen.
Der Workshop findet am Donnerstag, den 20. März 2014 von 15:30 – 17:00 im Raum WS 438 auf der FOSSGIS 2014 in Berlin statt.
Melden Sie sich hier an!