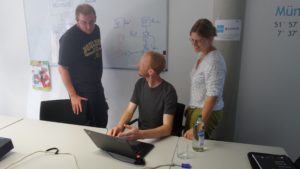 52°North recently organized a follow-up workshop between members of the Sustainable Coastal Land Management: Trade-offs in Ecosystem Services (COMTESS) project and members of the GLUES Scientific Data Infrastructure (SDI) team.
Anett Schibalski (Uni Potsdam, COMTESS), Daniel Nüst (Institute for Geoinformatics), Christin Henzen (TU Dresden, GLUES SDI), Benjamin Pross and Christoph Stasch (52°North GmbH, GLUES SDI) developed a Shiny app that allows stakeholders to explore the COMTESS model results in space and time. In addition, the SDI team provided support in creating an R package for the model code and in providing a proper documentation using novel supporting tools like Roxygen.
More information about the workshop and its result can be found at the official GLUES SDI blog.